20. 'Erzulie Dantor'_
1974 (18x24)

23. 'Dambala Wouedo'
1966 (30x24)

119. 'Mariage …'
c1988 (20x24)
In the unending search for 'the new Hyppolite,' André Pierre's name surfaces more often than any other. He's not a 'new' anybody, however: he's an original — and a classic celebrated in nearly every book on Haitian art.
An oungan — like Hector Hyppolite, LaFortuné Felix, and several other leading artists — Pierre was introduced to the Centre d'Arte in 1949 by Maya Deren, a noted student of Haitian life and of vodou. (See Reading.) His work has been prized by collectors for over half–a–century.
Pierre always claimed he painted only when and what the lwas told him to. Cynics scoffed that the gods spoke to him more often when he needed money or the market was good.
In response surely more to the market than to the lwas' commands, Pierre's colors became progressively more gaudy from the early 1970s on. His conceptions, however, were brilliant from the very beginnings of his art — decorating ounfòs (vodou temples) and sacerdotal gourdes.
In Pierre the animism of vodou is palpable. Everything seems alive — not only the people and plants, but rocks, water, sky, earth, and the paintings themselves. That vitality is especially evident in Dambala Wouedo.
Dambala was executed in Pierre's 'pre–garish' period. Erzulie came on the cusp of that style, Mariage and St Jacques well into it.
In 'Les Trois Esprits des Morts' Pierre's colors are again less garish, possibly reflecting the reverence with which he viewed the 'spirits of death.'
I visited Pierre in 1974. His small ounfò, or vodou temple, was decorated with gourdes, flags, and small paintings — all of which meant something to him and his religious practice.
Pierre was working on Erzulie Dantor at the time. I told him I wanted it; he said I could have it; I returned some days later, it was done, I bought it.
Dambala Wouedo was obtained by an artist, the friend of a colleague, who visited Haïti in 1975 and who had asked me before going if there were painters I wanted her to look for. She brought back to Manhattan, and I bought, this work and one by Micius Stephane. (The Pierre is dated 1966 on the back.)
Mariage and St Jacques come from Port-au-Prince galleries.
Les trois esprits was obtained from a collector in Maryland. It is unusually large for a Pierre and illustrates again his devotion to the lwas.
Cérémonie pour Agoué was obtained in a 2014 auction of some 1050 works from the eclectic collection of film director Jonathan (The Silence of the Lambs) Demme. The catalogue of that auction, Direct from the Eye, states the work dates from the 1960s; wear on the painting (slight chipping on the top of the masonite) would seem to bear that out.

131. 'St Jacques' _
c1990 (20x24)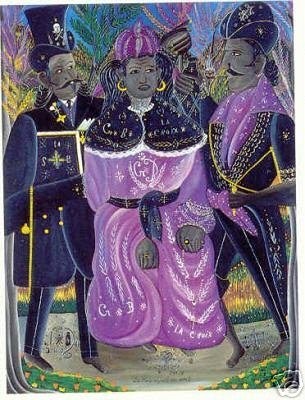 240. 'Les Trois Esprits des Morts'
c1986 (40x30)
252. Cérémonie pour Agoué
1960s (24x35.75)