56. Notre Dame et son Enfant_
c1979 (10x7)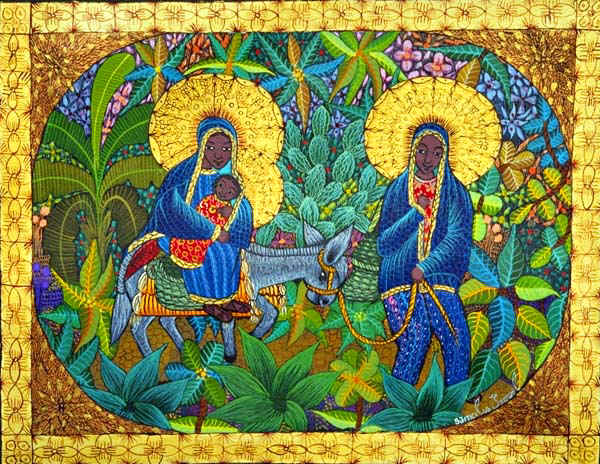 193. The Flight to Egypt
c1999 (16x20)
Ismaël led a full and rich life. An agonomist as well as an artist, he was also a political activist. He spent seven years in prison for opposing the Duvaliers, Papa and Baby Doc. Even so, thanks to the popularity of his art, he died a relatively wealthy man by the standards of his homeland: his estate included a Volkswagen.
Like many Haitian artists, Ismaël found a 'formula' that worked and stayed with it throughout his career. His formula derived from the art of the Eastern Roman (or Byzantine) Empire. It was obviously a true interest — an inspiration — and not just a gimmick (as with Casimir's formula). Though most of his works reflected a Byzantine–like appearance, he did not merely repeat himself. And while many of his scenes are Christian tableaux, they usually include a bit of vodou. (A vèvè, a drawing used in vodou ceremonies to invoke a lwa — a god or spirit — appears in the upper right of 'Notre Dame.')
The artist spent most of his creative life in Deschapelles as director of an art center associated with an American medical and religious mission. He trained scores of students and exerted a poweful influence on artists working in the 'Artibonite style,' two features of which are elaborately decorated clothing and backgrounds.
Ismaël has been exhibited worldwide and appears in most surveys of Haitian art published since the 1970s.