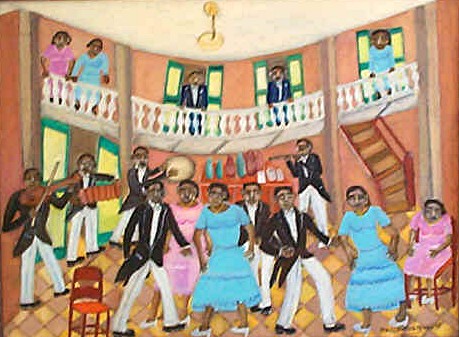 113. Bourgeois Dance
c1987 (24x30)
)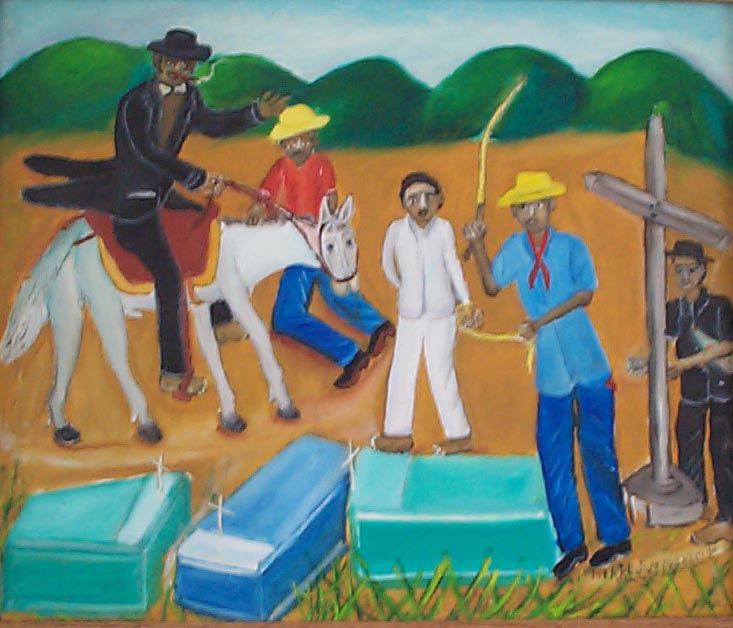 148. Bawon Samdi (Baron Sam

édi

)_
c1995 (20x24)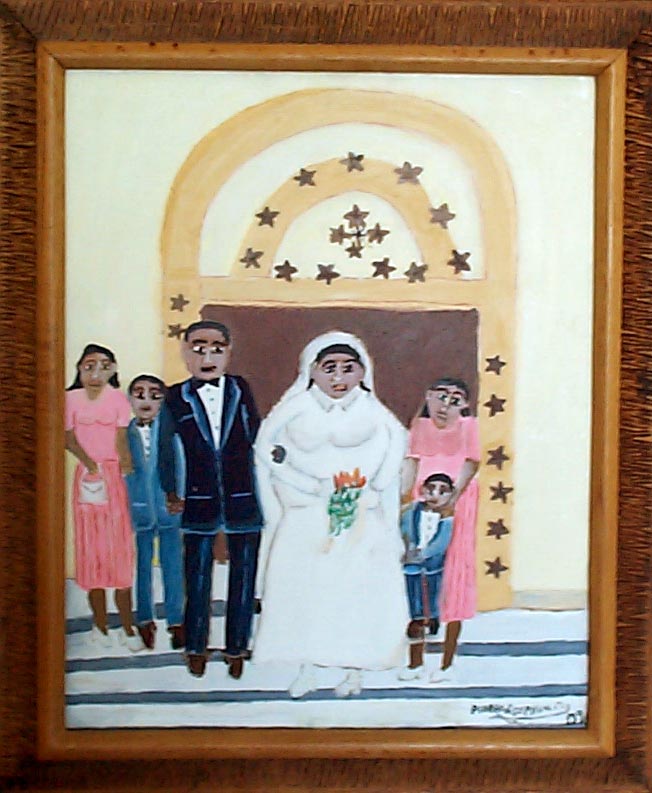 161. Mariage
c1997 (20x16)
Pierre–Joseph was Gérard Valcin's step–brother (some authorities say half–brother). Their arts are strikingly different.
Both were 'self-taughts.' But where Gérard was a precise and careful draftsman, Pierre–Joseph was more a 'self-taught impressionist.' (One writer has called him 'the prince of the naïfs.')
Their lifestyles also varied. Gèrard was a free spirit; Pierre–Joseph was a family man. Gérard was financially successful; his art permitted him to buy a small, but nice and airy suburban house. Pierre–Joseph lived in a depressing Port–au–Prince hovel without electricity or running water.
A stonemason and auto mechanic until middle age, Pierre–Joseph was encouraged to paint by his step–brother and by Prêféte Duffaut. He quickly developed his own style. (The brothers' arts may be compared directly by clicking the Bourgeois Dance thumbnail.)
A gentle and modest man, Pierre–Joseph refused to trade on his brother's fame and success. During the first half of his painting career he signed his works 'Pierre Joseph,' only later adding 'Valcin.'
I knew both Gérard and Pierre–Joseph Valcin and liked them a lot
n n n
Bourgeois Dance and Mariage are characteristic works: the artist delighted in everyday scenes. Bawan Samdi (Baron Samedi) isn't typical: Pierre–Joseph rarely painted either vodou or violence.
The three works to the right were purchased together from Aderson Exumé, a leading collector in Maryland from whom I have also obtained woks by Castera Bazile, Rigaud Benoit, René Exumé, and Celestin Faustin.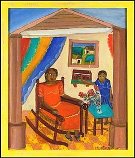 257. Mother&Daughter
c1990 (24x20)


258. Family Harvest
c1990 (24x20)


259. To Market
c1990 (24x20)