M
y very first Valcin,
Woman in Red
, came from a gallery. I admire it anew each time it enters my field of vision. The woman is placed exactly where she ought not to be — dead–center in the painting. But the scheme works because of the way the artist exaggerates perspective in rendering the plants. (In early 2006
Galerie Metisse
was offering a similar, though much smaller work, for $3,900. See the enlargement.)
Though I had asked for paintings of Coumbite and Papa Zaca, I was disappointed when I picked them up: they are near–copies of works Valcin had done previously. He produced, in fact, several other Coumbites — the coöperative Haitian harvest. Mine is as good as any; but it's still a third, or a seventh, or…. (Clicking the thumbnail allows comparison with one other rendering.)
Papa Zaca, the harvest god, is a special favorite of most Haitians. For good reason. He's always shown gorging himself — an excess that can only be a dream for most hungry Haitians. (An earlier version of Papa Zaca appears on the cover of Ute Stebich's Haitian Art: see Reading.)
Cérémonie pour Grande Brijitte, on the other hand, is an original. Valcin told me he'd never painted a Brijitte, but had always wanted to — and he offered me a 'special price' if I'd agree to 'commission' one. It was an offer I couldn't refuse.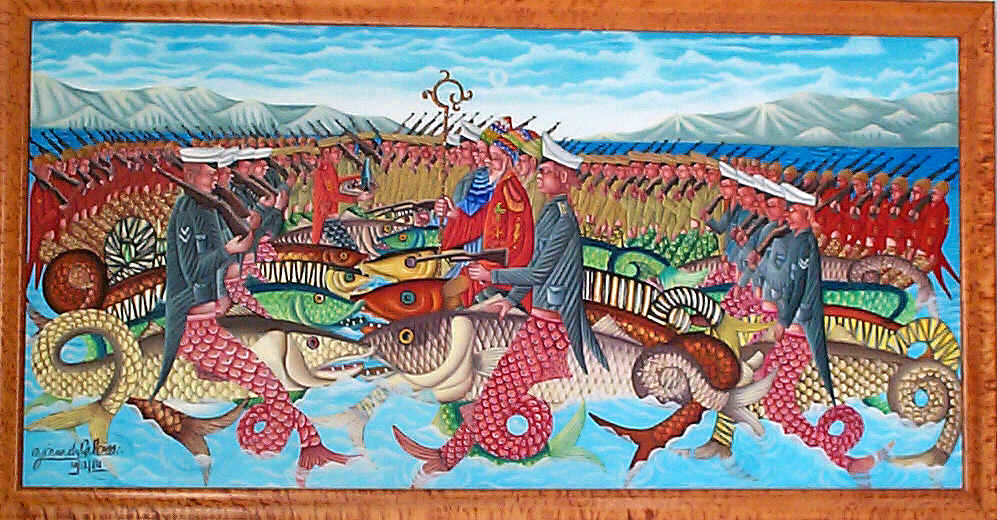 115. 'Agoué'
1984 (24x48)
I love all my Valcins, and Woman in Red is a favorite, as a first of anything often is, but it is not my very favorite.
Agoué is. I first saw the work in a gallery owner's Port–au–Prince home about a year after it was painted. It wasn't for sale. 'It's my favorite Valcin,' the dealer said. Over five years later — and nearly three years after Valcin's death — the gallery owner said he needed a new car. I got the painting — and by far the better half of the deal.
Gerard Valcin was, like all too many Haitian artists, an alcoholic. According to a friend who knew him well, Valcin spent his mornings and afternoons painting and his evenings and nights drinking. He might have lived a good deal longer but for his addiction to rhum. But life in Haïti can easily drive one to drink.