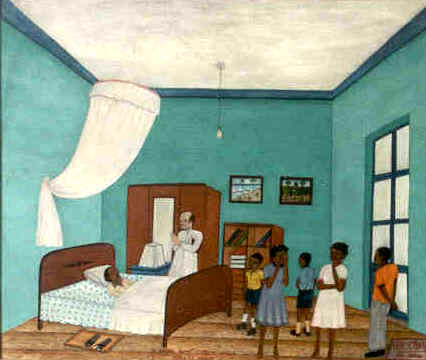 57. 'La malade … le prètre'
1976 (20x24)

Henri–Claude was probably the most gifted of Philomé Obin's many progeny. His work is outstanding in draftsmanship, color, and characterization.
The full titles of these works are:
l 'La malade recoit l'extreme onction
par le prêtre'
Like his father, Henri–Claude was a Baptist. Can that be why the priest in this painting is a blan, a white man? Until the regime of François ('Papa Doc') Duvalier, the Roman Catholic Church in Haïti was dominated by whites, mostly Frenchmen — a fact much resented by Haitian nationalists. By the time of this painting, however, most priests were native Haitians.
l 'Le president Borno et ses ministres'
Borno was president of Haïti in 1922–29 — during the first American Occupation — so this is not a painting from life.
The artist was another member of the Haitian diaspora: he lived in New York for many years and died there.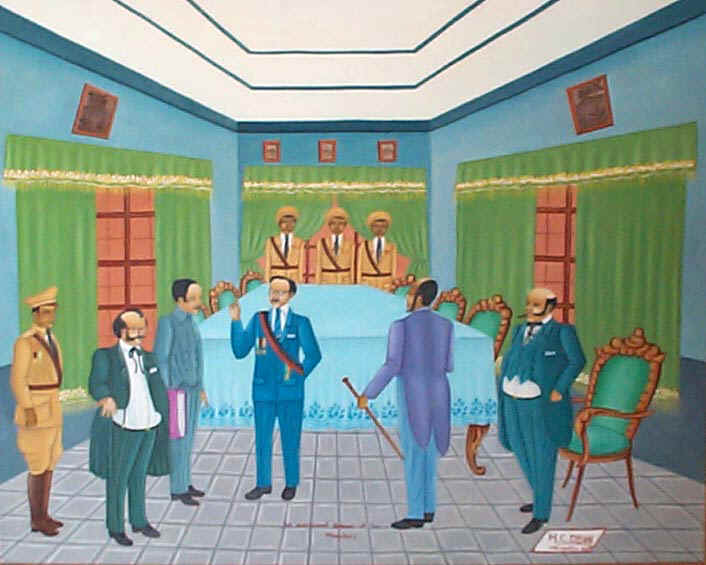 186. 'Le president Borno …'
1986 (24x30)