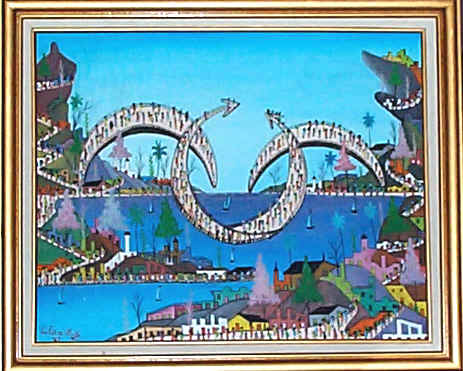 71. Ville imaginaire_
1981 (16x20)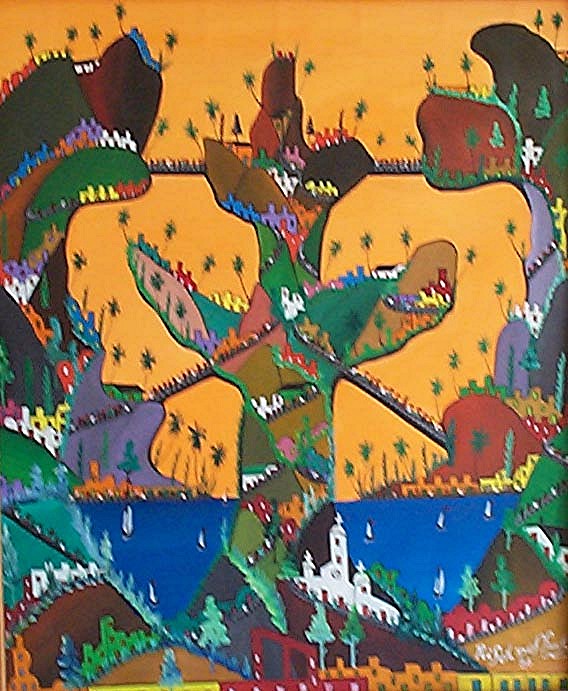 100. Orange Sky
c1985 (24x20)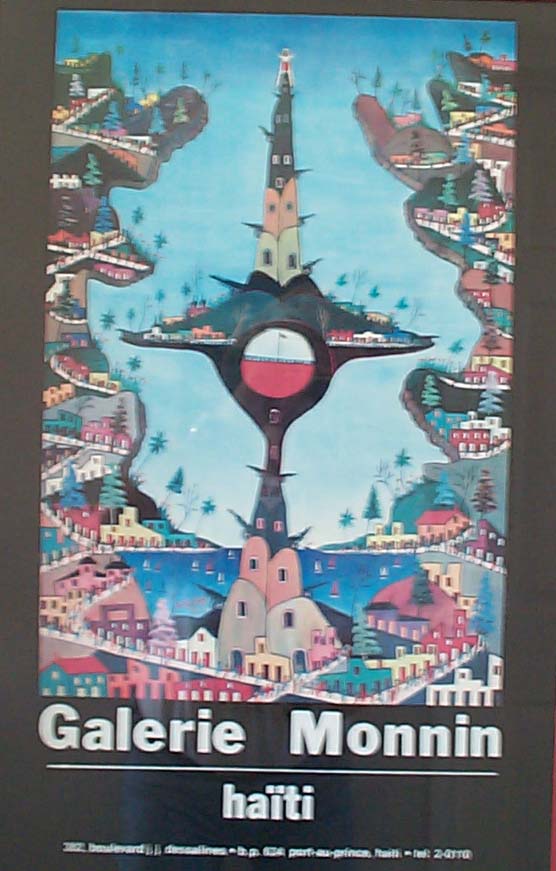 112. Ville imaginaire
c1989 (poster: 19x12)


160. 'Vue du pont'
c1996 (9x32)
A half–brother of Pauleus Vital and a first generation artist who joined the Centre d'Art in 1948, and who painted two of the murals in the Episcopal Cathedral, Duffaut has produced a few masterpieces, mostly of vodou scenes.
The artist is best known, however, for works said to be fantastic visions of his hometown, Jacmel.
Yes and no. As a fine and sophisticated Haitian artist once explained:
Look at Haïti, parched and poor. Duffaut
sees it as he wishes it was: lush and happy.
Much or most of Duffaut's work is repetitive. Even so, he is among the best–known Haitian painters. Jacqueline Kennedy Onassis's estate included a Duffaut; and the artist is represented in many museum and private collections.
I should probably have bought one large Duffaut in 1972 and have been done with it. Instead, by 1989 I had four (and a poster) — and I'd donated two others to non–profit group auctions.
Anyway . . . in 1985 the great J–E Gourgue packed his own Reposair and three other paintings into a wooden box he'd built for me to check as 'excess baggage' on my flights back to San Francisco. He winced when he saw Orange Sky. I realized he'd expected better of me.
'You don't like Duffaut?,' I asked.
Ever the gentleman, Gourgue smiled slightly, tilted his head, but made no comment.
(I considered Orange Sky quite fanciful until, driving down the California coast one sunset, I saw a sky above the Pacific Ocean that was exactly 'Duffaut orange.')
n n n
Over a year after the artist died, a Canadian working for an American Bar Assn program in Port-au-Prince offered 'Trois Femme d'Egype' [sic] for a bargain price. It arrived by Federal Express just two days after I wired him payment. I finally had my 'one large Duffaut.'
The subject is at once familiar and unusual. There are the usual multi-colored buildings and myriads of tiny people, swirling roads and risers, deep 'Duffaut blue' sea, and vodou lwas and symbols. But, as the title indicates, the setting is some fantastic vision of Egypt -- or of the Suez Canal.
This is the only painting for which I have a certificate of authenticity (see right and the enlargement). Duffaut had many imitators and was also the victim of forgers, causing him to issue such documents.
With the death of Wilson Bigaud in March 2010, Duffaut was the last surviving member of the 'first generation' of Haitian artists. He died in October 2012.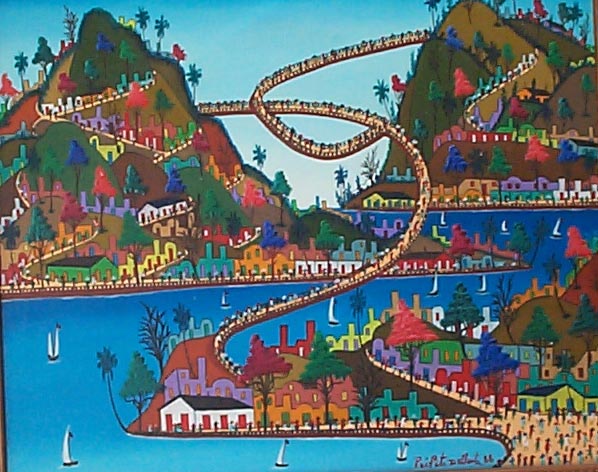 121. Ville imaginaire
c1989 (20x24)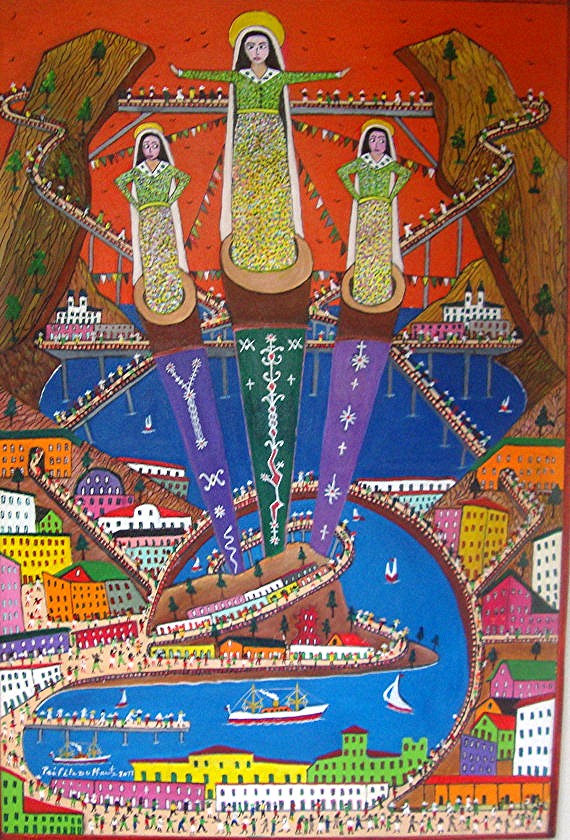 250. 'Trois Femme d'Egype'
2011 (36x24)